Former RTE star Mary Fitzgerald is bringing nostalgia back to our screens with the return of her iconic children's show How Do You Do- a return for a broadcaster who has been the queen of reinvention in her own life.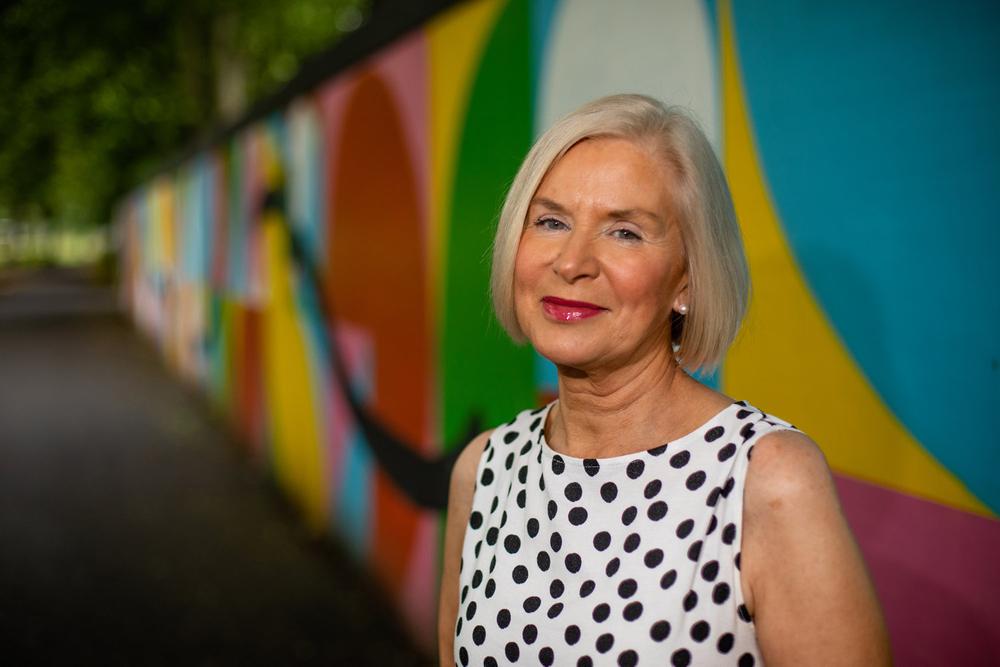 She became one of the nation's best-loved children's presenters on How Do You Do – and now episodes are available on the RTE Player after a more than 30-year hiatus. This is allowing a new generation to discover the joys of papier-mache and pipe cleaners.
The Kilkenny presenter hasn't been idle since leaving the small screen as she switched gears into PR to bring Ladies Day to Irish racing, before training as a barrister in her 50s.
Back in the 1980s she achieved popstar levels of fame when she went from being a primary school teacher for deaf children to fronting Anything Goes, one of the highest rated programmes on television.
"It had huge ratings. It was two-channel land. We were like popstars then, I hate to say that, it sounds a bit egotistical, but we led the St Patrick's Day parade in Dublin.
"I remember going to a restaurant in Dingle and the restaurant couldn't serve people because so many people were queuing outside the door because they knew I was inside. It was mad."
It was a baptism of fire for the young teacher who had sent a letter to Montrose offering her services if the station decided to go for educational TV.
"I got no training. I rocked up to RTE, I'd one rehearsal on a Saturday evening and the following week I was live on television I didn't know which cameras I was supposed to look at.
"And there was no autocue. You had to learn all your lines."
During the heydays of the 1980s, the former teacher would regularly have the likes of U2 and Thin Lizzy coming into the studio to film live slots on Anything Goes.
"We met them all – Boy George, Toyah Wilcox, Bono, they all came in.
"Bono and those were beginning to take off and they would come in and be very polite and get their photo taken with you, but they had managers with them. They were sort of wheeled in and out."
Phil Lynott stands out in her memory.
"I was quite a nervous presenter and he gave me great confidence, saying 'keep doing it and you'll get better every week'.
"He was brilliant, someone like him at the time who was a big star to take time to talk to me, I was a 22-year-old, I just remember him being very encouraging. Boy George was another person who was great fun."
Roald Dahl wrote her a letter. He was impressed when she asked him about the little-known fact that he had written a Bond movie script. "He sent me a lovely letter which I still have."
She is delighted to see a new generation of children learning how to get to grips with homemade kites and sock puppets.
"When Anything Goes ended, I got my own series How Do You Do which is now back on the RTE Player.
"I brought out two books. That year was 1990 and Gay Byrne's autobiography was the No. 1 bestselling book and I was No. 2."
Her penchant for arts and crafts on screen grew out of her brief teaching career.
She said: "I wrote into RTE and said if you're ever doing educational type programmes, I'd love to be considered as a researcher.
"Out of the blue I got a letter to audition for Anything Goes."
After more than a decade of children's shows, she landed her dream show, but Ireland's astounding run in Eurovision in the 1990s essentially put the death knell on that show being renewed for a second season.
"My real interest was in fine art and antiques and I did a show called Treasure Ireland.
"It was kind of like an Antique Roadshow-cum-Bargain Hunt, but Ireland kept winning the Eurovision during those years, so any money went into staging the Eurovision.
"So, as they say What's Another Year for Johnny Logan and What's Another Career where I'm concerned.
"I was dying to do adult programmes but because in a way I got typecast as a young people's presenter, I felt it was time to do something different."
Her next reinvention couldn't have been further away from her children's TV shows as she decided to answer an ad for a job as a PR manager for the Irish Horse Racing Authority which is now known as Horse Racing Ireland
"My job was to get more people to go racing as then it was very much a male-orientated sport.
"At that time, I was actually the person who brought in – whether it's a good or bad thing at this stage – the Best Dressed Lady competitions.
"Now there is best dressed men, best dressed children, best dressed family. I love fashion and style."
After six years, when the Horse Racing Authority moved to Kildare, she decided to change careers again to accommodate raising her young daughter, Caroline, in Dublin
"Following on from that I set up my own PR and event company which I'm still running."
But in the meantime, there was a stop-off at law school to become a barrister.
"I was in my 50s, I actually wasn't the oldest in the class, there were people in their 60s and 70s and one guy even in his 80s, but the majority were 25 upwards.
"I just have one daughter, Caroline, and my daughter grew up and I just felt I wasn't going to just sit at home and be one of those ladies who lunches.
"I appeared in the District Court right up to the Supreme Court, doing mainly commercial and civil law.
"I loved it but it's hard to make a living because when you're starting later in life, it just takes time to build up a practice."
She also runs a Horses for Courses course which gives people a complete A to Z on the horseracing industry along with her PR and events company.
And she is still recognised all the time by a whole generation who grew up watching her brand of old-fashioned, wholesome fun.
"The children who used to watch me are now adults.
"On nights out, say in the Shelbourne Hotel in Dublin, especially around Christmas, people send over drinks saying thanks for making my childhood a special place or that they have fond memories."
'How Do You Do' is now available on the RTE Player.
Article written by Lynne Kelleher and published in the Sunday Independent, 14 June 2020